History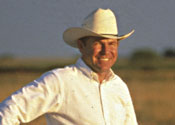 Eddie Parker
1995 Angus Journal
Central Region Land
Stewardship Winner
Karen's childhood dream was to run a ranch. Eddie prayed to God to meet his mate. And meet they did…as students the first week at Oklahoma State University. Looking back now, it was no coincidence that the two young people talked about "ranching" on their very first date.
After a three-year courtship, the two were married just before their senior year. Their first move after graduation was to Kansas City, MO, where Eddie worked as a feed ingredient merchandizer for Farmland Industries. While living there, two major events happened. The couple purchased their first 100 acres of land in Jefferson Co. Oklahoma, and they made the decision to return to Oklahoma to ranch in the near future.
Eddie and Karen eventually made the move back to Oklahoma with him "working in the field" for Farmland. Karen worked briefly for Halliburton Co. in Duncan as an illustrator and also raised baby calves Eddie contracted from local dairies. Meanwhile, additional leases were being put together. But between working for companies and trying to farm and ranch after work, the decision was made to quit their jobs and go into ranching full time.
In the early '80s, Parker Ranch involved a stocker operation and a small herd of crossbred cows. Also, additional cattle were taken in on the gain. But after awhile, the "pots" kept rollin' in and the "burn out" dragon raised his ugly head. During this time, the Parker's had purchased a set of registered Polled Hereford cows from Karen's dad and they decided the cow/calf deal might be a better way to go. For awhile they raised registered Polled Herefords and then with the acquisition of good J.D. Hudgins' gray Brahman bulls, the pair began to raise F-1 Braford bulls and replacement heifers.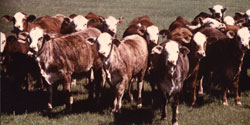 Brafords
In 1988, after difficulties locating Polled Hereford replacements, Karen & Eddie went to southeast Kansas to look at a herd of registered Angus for sale due to drought conditions. Going to Kansas with enough money to buy 40 head, Eddie soon called his banker after arriving, requesting funds to purchase the man's entire herd of 167 cows with calves.
From 1988 to 1992 the couple raised four breeds: Angus, Brangus, Polled Herefords and F-1 Brafords. But in 1992, loss of a lease plus the beginnings of a severe drought forced the Parkers to make some serious decisions. A dispersion was made of all cattle, with exception of the Angus. It was also in 1992 that the purchase of several embryos began quite a long story for the Parker Ranch. (Click here for the full story.) Since that time until this summer, southwest Oklahoma has been in the grips of a severe drought. So far, as of this date, southwest Oklahoma is having an excellent summer with adequate moisture and normal temperatures.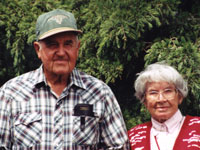 Alvin and Loyce Parker,
"Eddie's parents"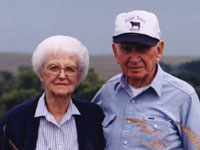 Leona and Harry Elwell,
"Karen's parents"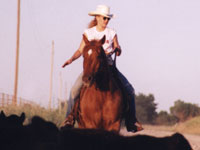 Ruslyn Parker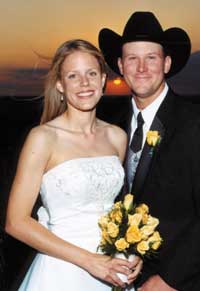 Casey and Ruslyn Ramsey
September 13, 2003
Photo taken at
Monument Hill, lookout
point on the Chisholm Trail,
near Addington, Oklahoma.
Photo taken by Steve Hinshaw.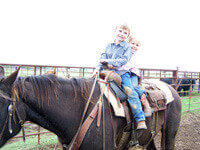 Cody and Caitlyn Ramsey
A little bit about our families. We would not be here now without their support and encouragement especially during the drought. Eddie's parents, Alvin & Loyce Parker, live nearby and continue to care for their own ranching operation. They both assist us whenever we need extra help - from moving and working cattle to fixing fence. They are always willing to help. Karen's parents, Harry and Leona Elwell, live in the north-central Oklahoma community of Perry. Harry still raises wheat and ran steers until a couple of summers ago. When he was just a pup, he worked as a cowboy for the McCarty Ranch in Nara Visa, NM, comprised of 60 sections. Leona grew up a farm girl and it was on Leona's parents' farm that Karen spent many weekends as a child developing her love for farm/ranch life. Leona's paternal grandfather also played a part in the settling of northern Oklahoma when he participated in the Cherokee Strip Run of 1893.
Our daughter, Ruslyn, grew up on the ranch with plans to return to operate her own ranch. She graduated in 2001 from Midwestern State University with a degree in Business Management and in 2003 from Oklahoma State University with a master's degree in Ag. Economics. She married Casey Ramsey in 2003 and together they are farming and ranching. They have given us two wonderful grandchildren, Cody and Caitlyn.
From 40 years ago, when Karen and Eddie first met and discussed building a ranch, Parker Ranch has grown into an operation of 6,000+ acres, with the acquisition of the Chism Ranch in January of 2002.
There is a poem which was cut from a magazine years ago…It is now tattered and yellowed from age, but remains tacked on the wall of our office. It sums up how we feel about the agricultural way of life.
TODAY
It's just another workday,
I'm up before the sun
To do the things I have to do
Before the day is done.
I'll hear the rooster crowing,
Hold warm earth in my hand,
Walk through the fields of burley green,
Breathe life into this land.
The work is hard and thankless,
No crowds will stand and cheer,
But there's no place in all the world
I'd rather be than here.
So I'll labor until sunset,
Then bow my head to pray;
No matter what tomorrow brings,
Thank God I had today.
-Mary Q. Wright, Campbellsville, KY